Does it ever snow in Hawaii? Yes and often, but only atop the tallest volcanic mountains. Snow in February 2019 set a record, not for the amount of snow. Instead, the record was for snow at the lowest elevation.
Heavy winter storms in the Pacific often dump snow in Hawaii, specifically, atop the summits of Haleakala (about 10,000 feet) and Mauna Kea (about 14,000 feet). However, Hawaii does not have any ski resorts. Likewise, snow does not fall at the beach.
Meanwhile, residents tracking Hawaii snow have posted many photos and videos on social media. Maui resident, Momi Fortune of Haiku, pulled over to photograph the white peak of Haleakala summit. She snapped the photo attached to this post on February 11, 2019.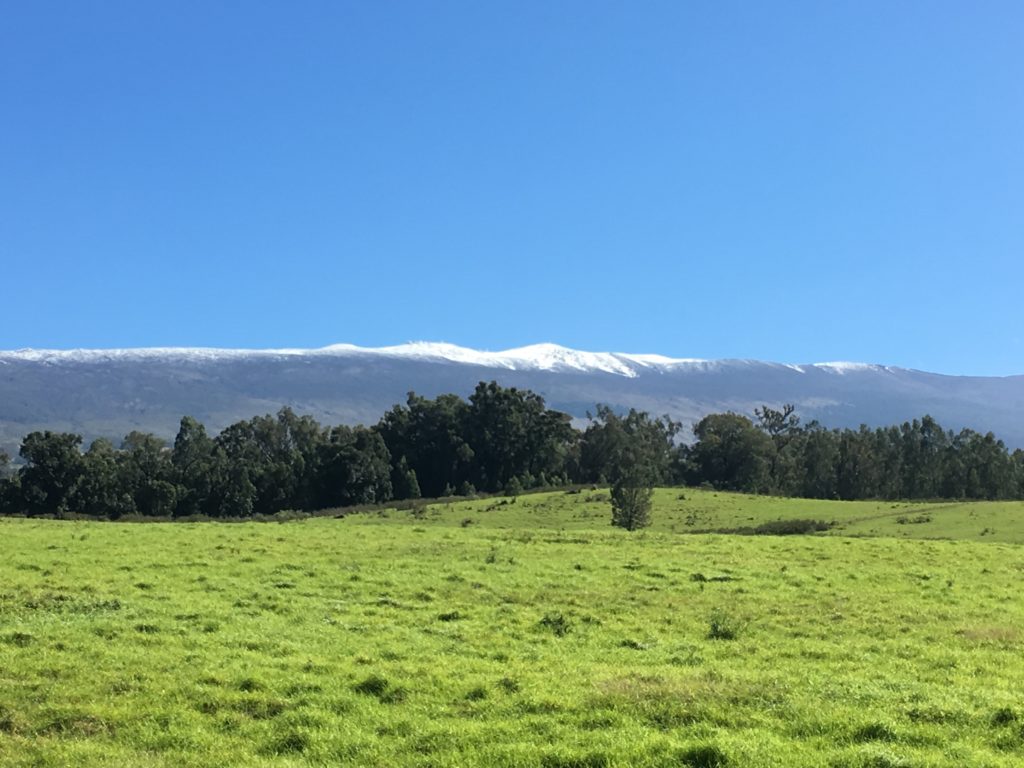 Historic Snowfall
Likewise, Lisa Walsh, a resident of Kula described the February 2019 storm, "This is the most snow I've ever seen on Haleakala summit in the 30 years that I've lived on Maui. There is snow down below Polipoli State Park [elevation 6,200 feet], which never happens."
Furthermore, some experts at Weather.com say that this may be the first snow in Hawaii ever recorded below 6,200 feet in the lower parts of Polipoli state park. SFGate.com reported a similar story about the lowest-ever elevation recorded.
In contrast, snow is more common atop the volcanic mountain summits, where the elevation is much higher. Haleakala summit on Maui and Mauna Kea summit on Hawaii island typically received 3-6 dustings of snow each winter.
Playing in the Snow
Another effect of Hawaii snow is that it attracts people to the volcanic summits to play. Popular snow activities in Hawaii include: Snowboarding, skiing, sledding, and hiking. However, many Hawaii residents lack experience with snow and could get injured or damage precious habitat. For example, people who drive to the summit without a 4WD vehicle are likely to get stuck in the muck.
Further, the Honolulu Star Advertiser reported on February 7, 2019, an incident on Mauna Kea where snowboarders didn't get hurt. Instead, they damaged a cultural site and endangered habitat.
Finally, learn more about snow in Hawaii from an article entitled "Poli'ahu's Gift" that I wrote for Hana Hou!. You can also read more about previous reporting on snow storms in Hawaii at the links below: