Question: My brother is currently hanging out on Maui for a week vacation.  He's on his own and I told him I would ask you for any recommendations of your favorite restaurants and activities.  Would you mind sharing any not-to-be-missed places/things for him to do/see in between his moments of relaxing on the beach? He doesn't have a car. Thanks!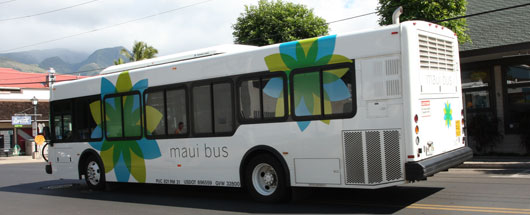 Getting Around
Maui finally offers a reasonable bus service (see schedule). It costs $2 each leg. If he plans a little, he can probably avoid renting a car, which can run up to $100 per day on Maui during peak season.
Sights/Activities
He can ride from Lahaina to Wailuku, where I recommend a walk into Iao Valley State Park. He should bring a hat, a light rain jacket and good walking shoes that can get muddy. If he's up for a longer hike, there's a lush trail that leads into the back of the valley. He can dip into a pool anywhere along the trail for probably the most refreshing swim he'll ever take.
After the hike, stop for lunch at Saeng's Thai. The hot pots, satay and green papaya salad can't be beat. Lunch with a beer will cost about $20.
He can also ride from Lahaina Upcountry to Makawao, which is one of my most favorite small towns in all of Hawaii. It's a Main street kind of layout, with many art galleries and unique shops to browse and a few good eateries. I personally like the cafe tucked behind Viewpoints Gallery. It used to be called Cafe O'Lei, not sure if it's changed names. But they serve delicious locally grown fare for lunch at reasonable prices.
Dining
In Lahaina, my favorite chef is Mark Ellman. He runs two quality restuarants, one very casual and one a tad fancier. For dinner in Lahaina, Ellman's Mala Ocean Tavern tops my list. He serves mostly local produce, and the flavors are amazing. Great for dinner, but your brother will need a reservation for one of the oceanside tables. He can also sit at the bar, which may be more comfortable if he's traveling alone. An appetizer, entree and a drink will cost about $50.
For lunch in Lahaina, I like Ellman's Penne Pasta Cafe. Mark owns it, too, and it shows in the quality. But it's casual, affordable and delicious Italian fare. The daily special and beer will cost about $15.
There's also a quality Thai restaurant, called Thai Chef, tucked into a strip mall near the Old Lahaina Shopping Center. They serve a fresh coconut vegetable soup and a green papaya salad that will make him hate Mainland Thai food. Soup, salad and a beer to wash it down will run about $25.