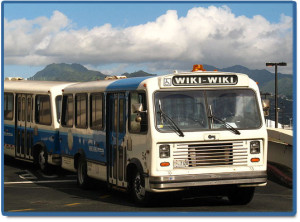 This series covers using airports in Hawaii. Click here to see the rest of the articles in this series. This post covers connecting in Honolulu International Airport (HNL) from a Mainland flight to an interisland flight (a domestic to domestic transfer).
TIME FOR CONNECTIONS
Allow anywhere from 30-75 minutes to connect for your interisland flight on any Hawaiian Airlines flight or on a Mokulele Airlines flight operated by Republic Airways on the EMB-175. These times listed are extremes: thirty minutes is really pushing it and 75 minutes is fairly relaxed. (If you are connecting to a go! or Island Air flight, please read the segment listed below.) I have heard of a few who have made 15 minute connections, but remember that your bags might not make the flight you're on. Allow at least 45-75 minutes if you plan on checking your bags through to your final destination. More importantly, use your best judgment and understand that neither Hawaiian nor Mokulele provide free "standby" for passengers who miss their flight (see below).
You can walk between terminals or ride the free Wiki-Wiki shuttle bus. You will not exit security.

Note to those arriving into HNL on American Airlines: According to some reports, American Airlines will only accept luggage interlined in HNL with a 75 minutes or greater connection. When flying AA, make sure to allow 75+ minutes for connecting in HNL if you want to interline your luggage.

Note to those arriving into HNL on United Airlines: If you're arriving off a United flight from the Mainland, it is advisable to add 10 minutes to your transit time. The United gates (Gates 6-11) are the farthest from the inter-island terminal.

MISSED YOUR FLIGHT?
If you miss your flight, Hawaiian & Mokulele allows for paid standby (unless your flight is the last of the day). Depending on the fare class your ticket is booked in, they may impose a penalty ranging from $15-$30. If your inbound flight to the Honolulu International Airport is delayed, ask the agent of your delayed carrier for a "Late inbound" flight card or some note signifying that your flight indeed did arrive delayed. It may not be of much use in waiving the penalty but it can't hurt.

HNL IS AN OPEN-AIR TERMINAL
Please allow enough time as your comfort allows. Nearly all, about 75%, of the Honolulu International Airport is an open-air terminal. In other words, there's no air conditioning. On hot days, you may work up a sweat. In addition, the WikiWiki shuttles that transport passengers airside are also not air conditioned.
STEP-By-STEP INSTRUCTIONS FOR CONNECTING IN HNL
Please use this map of terminals at Honolulu International Airport to follow along.
1. Check-in for your interisland flight online using Hawaiian Airlines' website (recommended) unless your interisland flight is a codeshare* or your ticket is a paper ticket. As of May 1, 2009, Mokulele has still yet to offer online check-in for any of its flights. Be sure to allow a little extra time when connecting to a Mokulele E175-operated flight.
Notes:
You do not need to check-in online, but if checking bags, this is the fastest way for the agent checking you in at your departing city to see the information needed to pull up your PNR on Hawaiian Airlines interisland flight and process bag tags for your checked luggage to your final, interisland destination. This allows you to skip the gate check-in podiums in Honolulu, which can get pretty busy.

When checking in online with Hawaiian for your inter-island flight, you may receive the opportunity to upgrade to first class for $25 or $50. Please note that the fee to upgrade at the gate is always $50.

Sometimes it's possible to check-in online on a codeshare IF you have the eticket number. But not always. The other way to check-in online for a codeshare (usually) is to call HA and get their PNR (which of course is different from the issuing airline's) which one can use for online check in.

2a.If you are flying to Hawai'i and then to an inter-island destination on two separate tickets (e.g., if booked your Mainland-HNL ticket on AA's website and thereafter booked your HNL-Neighbor island ticket on Hawaiian's website, your interisland flight is NOT a codeshare):

Check your bags all the way through to your final destination if you are checking bags. For example, if you're flying ORD-HNL-KOA, ask the agent at ORD to check your luggage all the way through KOA. In order to do this, you may need your e-ticket number for Hawaiian Airlines handy, which can be found via an online confirmation e-mail or on your boarding passes you printed by checking in online for your interisland segments. Checking bags thru to your final destination will allow you to "skip" going through the security checkpoint again at HNL, if you have checked luggage.
2b. If your interisland flight is a codeshare, your bags should already be checked through to your interisland final destination. Double check with your check-in agent and the bag tag to make sure that you bag is headed to your final destination.
3. Once you arrive in HNL. Check the video display monitors for your interisland gate assignment and do NOT leave the secured area. Follow the signs that will guide you to the interisland gates (which will read "interisland gates" or "Hawaiian Airlines"). Hawaiian Airline's gates are 55-66. They are past the "Ewa" concourse of the main domestic terminal.
You can also take the WikiWiki shuttle. Follow an escalator to get up to the WikiWiki shuttle boarding area. (Note: the non-air conditioned WikiWiki shuttles have a tendency to make their loops very slowly. Only take it if you have the time, or are connecting off a United flight).
4. On this leg, you will not need to proceed thru the agricultural screening station; however, on the return you will. All bags (checked or carry on) must be screened by an agricultural station for flights departing from Hawaii to the US Mainland.
5. If you have not checked in for your interisland flight online, you may check-in at the podiums fronting your departure gate. Remember that you need a boarding pass with a paper ticket, if you have one, to board the flight. During peak travel times, these podiums have a tendency to get pretty busy.
6. Interisland boarding begins 15-20 minutes prior to flight. Interisland flights are hit or miss when it comes to on-time departures. If you're booked on a reward ticket or a lower class fare and wish to stand-by for an earlier (or later) flight, Hawaiian & Mokulele may impose a stand-by/ticket change penalty (see above).
Note:
Your bags may or may not have made it on your flight. If you have allowed ample time, it is highly likely that your bags will be on the same flight as yours. Do note, however, that bags have a tendency also of beating its owners to the neighbor island destination. Also, if you did not allow ample time for your bags to transfer, your bags may be on the next flight to your destination. In other words, you will not know until you arrive at your neighbor island destination.

Return Flight
On your return through HNL, repeat the same process, checking your bags through to your final destination. Upon arrival into HNL from your interisland flight, do not leave the secured area and walk or take the Wiki Wiki shuttle to your departure gate in the main terminal. You will need to proceed through an agricultural screening station, but this is not a TSA screening station. Any fruits (except USDA-checked pineapples), non-inspected plants, animal etc. may be confiscated at this point. For more information, see the USDA guidelines. Please remember that flights departing from Honolulu to the US Domestic Mainland board earlier than interisland flights, anywhere from 45-60 minutes prior to departure. If you are interlining bags to your final destination, remember that your bags will first need to clear the agricultural screening at your point of departure (e.g., OGG, JHM, KOA, ITO, LIH) before you board your first flight. Hours of neighbor island agricultural screening stations are posted on Island Air's website. Note that some agricultural stations close earlier than the last departing flight.