Mosquitoes in Hawaii? Yes, all of the Hawaiian islands have mosquitoes. They were most likely introduced from bilge water carried in whaling ships in the early 19th century. Aedes aegypti is one of the most common species noted by black and white spots. It is very invasive and found on all islands.
Mosquitoes in Hawaii are most active in the morning and evening hours. The are several species of mosquitoes in Hawaii, two of which like to bite humans. One species limited to birds, but it not going to impact your vacation. Aedes aegypti bite two hours before and after sunrise and sunset. The other species bite during the day.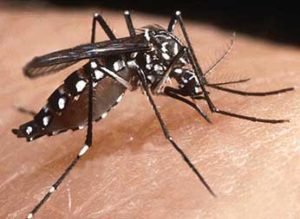 Avoid bites from mosquitoes in Hawaii with DEET
DEET prevents bites because it hides your CO2 signal. Mosquitoes use CO2 as the chemical signal to locate blood. Therefore, you become invisible to mosquitoes when you spray your clothing or skin with DEET.
Many people use Cutter 54010 Skinsations 6-Ounce Insect Repellent Pump Spray 7-Percent DEET, Case Pack of 1. I use Cutter All Family 15 Count Insect Repellent Mosquito Wipes 7.15% DEET HG-95838 . The wipes tuck into my day pack or purse and never leak or cause worry about carry-on toiletry bag screening at TSA. Also, wipes work wonders on squirmy kids.
If you are concerned about strong reactions to bites, consider using a 20% DEET spray, such as Cutter Backwoods Insect Repellent 25-Percent DEET Pump Spray, 6-Ounce, in the mornings and evenings when mosquitoes are most active and if you notice you're being bitten.
If you are allergic to DEET, try a natural mosquito repellant. These are more gentle to sensitive skin because they are not as harsh. The recipe is simple. Mix into a base of vodka equal parts of the essential oils cinnamon, tea tree, and lemon. I fill a small spray bottle and carry it in my purse.
Avoid bites with clothing
Most people with bites are wearing shorts and t-shirts. Instead, I wear a lightweight long sleeve shirt and loose-fitting pants. I avoid bites by wearing permethrin clothing, such as ExOfficio Men's BugsAway Tarka Lightweight Long-Sleeve Shirt . Likewise, mosquitoes in Hawaii can usually bite through tight-fitting clothing, including jeans. Therefore, wear loose clothing when possible.
Treat red, itchy bites
Mosquito bites cause red, itchy welts. Some people experience itching for 10 minutes while other people itch for 10 days. The immune system is to blame because mosquitoes inject a chemical as they bite. This chemical is an anti-coagulant, which prevents blood from clotting. The immune system reacts, causing welts.
How sensitive you are to mosquito bites is a realistic concern. If you live in an area with lots of seasonal mosquitoes (think Minnesota or Maine), chances are your immune system is not going to freak out over a few bites. However, if you do not get bitten regular by mosquitoes, the immune system can react with raised, red welts that itch like crazy.
Itching tends to make welts worse. Instead, apply ice for 10 minutes every hour. Over-the-counter medicines may also help. These include antihistamines for severe reactions and sting relief.
If you are sensitive to bites, keep hand to relieve the itching some calamine lotion, such as Caladryl Clear Lotion, 6 Ounce, or sting ease, such as StingEze Max2 Insect Bite Itch Relief Dauber, 0.5-Ounce.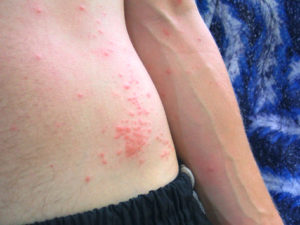 Sting relief products reduce pain and discomfort. Most grocery stores sell sting ease products that reduce itching from insect bites. Still, I carry individually wrapped sting relief wipes in my day pack and purse. Apply liberally as soon you notice the bite.
Where are the mosquitoes in Hawaii?
Leeward areas have fewer bugs because there is less rain. Less rain means less standing water, where mosquitoes breed. These areas include: Honolulu on O'ahu, Poipu on Kaua'i and Kihei on Maui.
Windward areas have more mosquitoes because there is more rain. This means more standing water, where the bugs breed. These areas include: Hilo on Hawaii island, Hana on Maui, and Hanalei on Kauai. However, windward areas are also more windy. Asa result, strong trade winds prevent mosquitoes in Hawaii from landing on skin because wind blows away CO2. Mosquitoes cannot hone in on the carbon dioxide coming out of the body with breathing.
What diseases do mosquitoes in Hawaii carry?
Visiting Hawaii is not like going to the Amazon. There is no malaria in Hawaii. Dengue is limited to occasional outbreaks in the deep jungle areas, like the road to Hana on Maui. Catching a disease spread through mosquito bites is not a real worry in Hawaii.
Mosquitoes in Hawaii do not carry malaria, thank goodness. Malaria is a debilitating fever disease found in most tropical zones in the world. However, mosquitoes in Hawaii carry dengue fever. Outbreaks occur in wet zones on Maui and the Big Island. The most recent outbreak of dengue happened in 2015. Read more about dengue and zika in Hawaii. If you are concerned about dengue fever, stay in leeward areas.
Finally, if you are allergic to mosquitoes, plan your travel to avoid wet areas. Waterfall hikes are located in windward areas. Bring plenty of repellent to reapply after swimming. Also, wear protective clothing and apply sting relief as needed.